ValueWise
Solution for company valuation
ValueWise is the first commercialized software that is developed for the purpose of corporate valuation and helps making investment recommendations for public/non-public companies.
Stock valuation for investment decisions
Corporate valuation for M&A and restructuring
Various valuation methodologies such as DCF, RIM, EVA and DDM
Customized service of valuation models and interface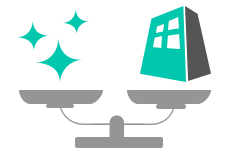 Convenient Interface
- Model that systemically carries out company valuation with over 20 user inputs
- Support proper valuation by alarming warning messages for unreasonable projections
Various models used by professionals
- Including various valuation approaches used by professionals such as research analysts and fund managers
- Valuation methodologies include discounted cash flow, multiples approach such as PER, PBR, PCR,
EV/EBITDA
Scenario analysis based on growth and margin variables
- Providing corporate analyzing index such as Free Cash Flow, ROI analyzing etc.
- Valuation sensitivity on variables that affect the company valuation, such as growth and margins
TimeSeries data that accurately adjusts for changes in accounting standard or capital structure
- Daily updates that effectively apply chronological adjustments related to stock and financial data
- Database that is well recognized for its accuracy by prestigious financial institutions both domestic and
international.
Setting

- Displays company's basic information, settings of the model and market data
- Select the period of forecast year(3~10years) and quarterly forecasts(1~3Years)
- Can select Language option (Korean/English), unit option(million, 100 million, billion)


Annual / Quarter

- Annual / Quarterly actuals and forecasts provided
- Calculating Index by Ratio, Valuation based on forecasting Financial Statements
- Financial statements(IS/BS/CF), Multiple, Financial Ratios, Valuation provided


Forecasting

- Forecast using financial Statement
- Comprised of actual(Forecast A) and Quarterly(Forecast Q) sheets
- Reflecting forecast changes in capital (Right issue, bonus Issue and CB)


Absolute Valuation(DCF)

- Company value and fair value per share based on Discounted Cash flow model (FCF,
RIM, EVA, DDM)
- Providing Weighted Average Cost of Capital(WACC) applied to DCF Valuation
- Analyze sensitivity of eternal growth and discount rate


Relative Valuation(Multiple)

- Multiple Valuation Model using PER, PBR, PSR, EV/EBITDA
- Various per share valuation model using EPS, BPS, CFPS, PSR, EBITDAPS
- Providing Band Chart


Chart

- Providing Ratio Chart including profitability, growth, financial solvency etc.
- Chart for earnings factors(sales, operating profit, net income), debt ratio, profit
margin, ROA, ROE and etc.


Report_cover, Report_FS

- Analysis of historical financial data and projections results
- Set of cover page, Financial Statement Summary
- Select period of Financial Statement and Unit