Index Providing
WISEfn Index
WISEfn serves WICS Sector Index, Style Index, Fundamental Index, Dividend Index etc. start from 2000, WISEfn Accumulated competency and know-how's through constant R&D and development of various indices over years.
Market friendly indices that follow the market closely
Specialized indices that enables various strategy of style and sector
Benchmarking indices for evaluations of different funds and asset management
Customized indices that cater to client's specific request
Various index formulation methodologies - Market cap / Ceiling method, Dividend index, Trading volume, and etc.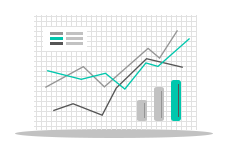 WISEfn Index
Homepage
Market
Develops and introduces indices(jointly with media associates) that effectively reflect the markets

Consistency
Maintains continuity and comparability of the index constituents and selection process

Replicability
Easy construction of an index fund and convenient use and modification

Timeliness
Timely Market updates and index services to institutional investors

Reliability
Ransparency and accuracy by disclosing criteria for index constituents and strictly applying it
Accumulated competency and know-how's through constant R&D and development of various indices over years